Can Dogs Eat Bananas? (Nutrition Guide)
Knowing what snacks are safe to give your dogs can be quite a minefield for dog owners. Given that foods like grapes are toxic to our canine friends, yet so good for us as humans, it can be tempting simply to buy store bought snacks and treats to stay on the safe side. Sadly, though, these can often be laden in sugar and other nasties that are bad for your dog and their digestive systems.
In this article, we look at whether dogs can eat bananas. Given that they are so easy to prepare for humans and animals, it would be fantastic if they were. Well, thankfully, bananas are not only safe for your dog to eat, they are also a great treat for your pooch owing to a whole host of vitamins and minerals that bananas have within them. We look at ways that we can give our dogs bananas therefore and how many we can give them for too much of a good thing can be bad. Especially when it comes to a dog's stomach.
Related Post: Best Dog Vitamins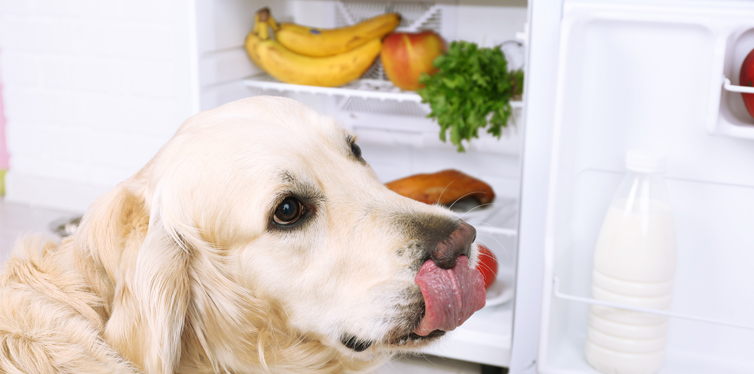 Why Are Bananas Safe for a Dog?
Bananas are safe for dogs as they do not contain any toxic components, unlike some other fruits do that we should be wary of. Bananas can be used therefore as a training aid for dogs that are being taught a new skill or a puppy that is learning how to behave. However, just because there are no toxic parts to a banana and they have been successfully used in the past, that is not to say there aren't a few things we should be aware of first so that we avoid giving our dogs a stomach ache.
Related Post: Best Dog Treats
Considerations For Feeding Dogs Bananas
Feeding bananas to puppies
If you are really keen on giving your dog bananas as a treat, and your dog is still a puppy, work closely with your vet at first with how and how much of the fruit is safe to give at any one time. Puppies have pretty specific diets and additional calories from energy laden bananas may upset the delicate balance. That being said, if you were going to give your puppy some form of sugary store bought treat as a teaching aid anyway, then a banana is the better, healthier option. Your vet will be able to give you pointers on this.
While not necessary, try to peel a banana first before you give it to your dog. While the peel is not toxic to canines and won't cause them any lasting harm, it could still cause them to have a painful upset tummy that results in a little throw up or even diarrhea. If your dog does eat a peel, don't worry about it too much, but it will pay dividends to keep an eye on him or her given that these messy reactions can occur. It is the high content of fiber in the peel that will cause this.
Try to cut up the banana into treat size portions
Given that bananas are sweet, it is good to use them as a treat as opposed to a supplement to a diet. Bearing this in mind, it's good to cut up a banana into an appropriate size before giving it to your dog. This is also due to the amount of energy and calories that a banana contains. If you have a small dog, a whole banana will push the balance of their usual diet into a high calorie zone which could cause them to put on weight.
Don't rely on it to give your dog all the vitamins and minerals needed
While a banana does contain a great many nutrients that are helpful to dogs like potassium, it should still only ever be used as a treat and not be relied on to give your dog all the nutrients it needs. This is down to small serving sizes.

While a banana is a fruit that has many health benefits over store bought treats, it will still contain a large amount of natural sugar. Too much sugar will cause your dog will put on weight. A good way to ensure that this does not happen is to give your dog 90% of its needed calories from his or her typical kibble. The other 10% is perfectly safe to come from treats.
It does not cure diarrhea
Bananas in humans has a slight constipative effect. The same has not been confirmed within dogs, though there is no harm in trying especially as it may save your dog having to take any drugs if the banana does work. If his or her diarrhea has not stopped within 24 hours however, call your vet as soon as possible.
As previously mentioned, bananas are quite calorific so particular care should be given when feeding them to small dogs. Remember your dog's size when providing them with any treats, even natural ones like bananas, so that they don't put on weight which can be dangerous.
In the Summer, a great treat for your dog can be a frozen banana. In fact, your dog may prefer them like this all year round. The difference in texture may make the fruit more appealing to them.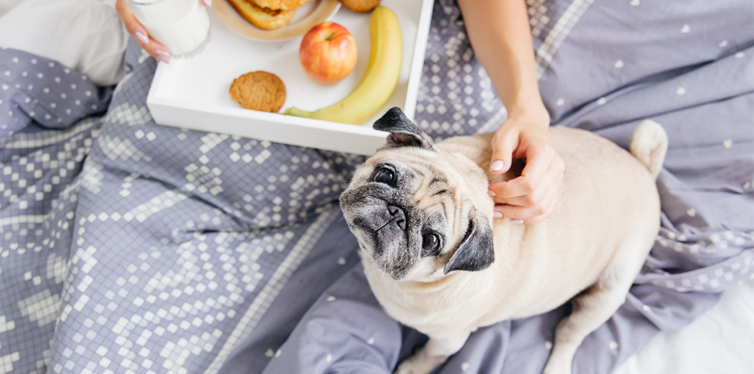 The Bottom Line
In short, you can feed a dog a banana with no fear that the banana is toxic to them. However, care and attention has to be taken to the amount of banana that a dog is given due to how calorific a banana can be and therefore how it can cause a dog to put on weight. This is particularly true for small or more sedate dogs that do not do need much energy. While you may be giving your dog a healthy treat by feeding him or her banana, the overall result may be that of weight gain which can be dangerous in canines if not kept under control.
Sources:
5 Dog Treat Recipes That Kids Can Make – HowStuffWorks
Healthy People Foods You Can Give Your Dog – Pets WebMD