Can Cats Eat Chocolate? What You Need to Know
No. Regardless of how tempting it is to give your feline friend a piece of decadent and luscious chocolate, don't. This human food is lethal to cats as it is to dogs. The only difference is that we don't talk about the incidence of chocolate toxicity in cats as often as we talk about chocolate toxicity in dogs. This is because most cats do not have sweet taste receptors on their tongue. Seldom will you see cats feasting on very sweet foods like chocolates. On a weight basis, chocolate is more toxic to the feline population than it is to members of the dog kingdom. Let your cat live longer; don't give it chocolates.
Why Chocolates are Toxic to Cats
There are two substances in chocolates that are harmful to cats. These are caffeine and theobromine, two xanthine alkaloids that are homologous to each other. These two substances are stimulants – compounds that stimulate the nervous system and produce a number of effects.
Caffeine can increase the heart rate which can also increase blood pressure. It can also make breathing a lot faster, irritate the stomach, and cause restlessness. While caffeine is a more potent stimulant than theobromine, it is the latter substance that is making pet parents and vets anxious. Chocolates contain a greater proportion of theobromine than caffeine.
Theobromine can increase the heart rate and relax smooth muscles. It can also stimulate the cat's nervous system, but not as potently as caffeine. It can also induce more frequent urination which can lead to dehydration. The loss in fluid volume can lead to a reduction in blood pressure. This can lead to hypovolemic shock, coma, and death.
This should not be a problem if the cat's liver is able to metabolize theobromine in a more efficient manner. The substance circulates throughout the cat's body for almost 24 hours. This is what spells trouble for your cat. Imagine an increase in heart rate for almost a day. This can compromise the heart and cause other problems.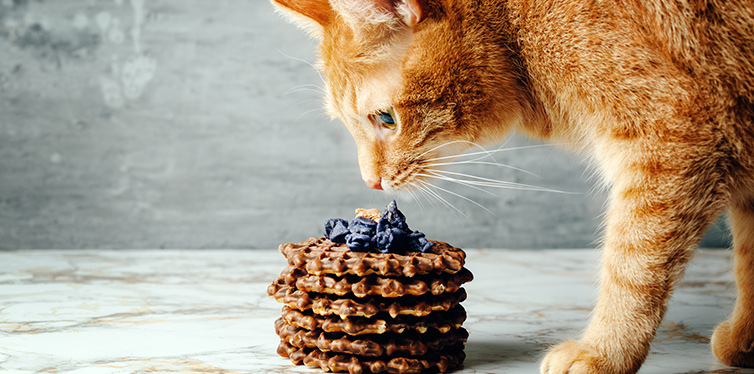 How Much Chocolate is Deadly to Cats
When we talk about toxicity of any given substance, we always talk about the minimum amount that can cause problems. Chocolate toxicity in cats is proportionate to the amount of theobromine that is found in chocolate products. The lethal or deadly dose of theobromine for cats is 90 to 91 milligrams per pound of body weight. As such, a 10-pound cat only needs to ingest about 900 to 910 milligrams of theobromine for it to die.
The question now is how much theobromine is present in your favorite chocolate products. Here's a useful tip: the darker the chocolate is, the greater is its concentration of theobromine. Let's look at some food products that contain theobromine.
Unsweetened baking chocolate – contains 390 to 450 mg of theobromine per ounce
Semi-sweet dark chocolate – contains 135 mg of theobromine per ounce
Milk chocolate – contains 44 to 60 mg of theobromine per ounce
White chocolate – contains 250 micrograms of theobromine per ounce
If you have a 10-lb cat, giving it 7 ounces of semi-sweet dark chocolate may lead to its demise. This amount is more than the lethal dose of theobromine in cats. Giving it less than 7 ounces may not kill your cat, but it sure can produce serious consequences.
How Do You Know Your Cat has Chocolate Toxicity?
While it is true that cats do not have sweet tooth, one can never be too sure. As such, recognizing the different signs and symptoms of chocolate toxicity in cats is crucial. Some of these manifestations may be as minor as the following.
Vomiting
Weakness
Fever
Diarrhea
Lethargy
Muscle twitching or tremors
However, if your cat ingests a large amount of chocolate, there's a possibility that you will see the following signs and symptoms.
Severe decrease or increase in blood pressure
Very fast heart rate
Very fast breathing
Seizures
Coma
Cardiac failure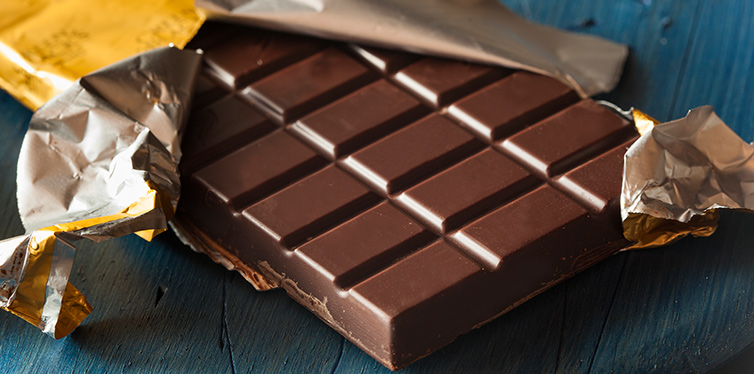 What You Should Do If Your Cat Ingests Chocolates
We now know that different types of chocolates contain different concentrations of theobromine. We also know that the darker the chocolate, the higher is its theobromine concentration. It is for this reason that our next action is dependent on the type and amount of chocolate that your cat was able to ingest.
It is easy to determine the type of chocolate that your cat may have ingested. What is trickier is how to determine the exact amount of chocolate that the cat was able to eat. As such, it is best to seek the advice of your veterinarian at once. Time is crucial since the manifestations of chocolate poisoning take time. Do not wait for the signs and symptoms of chocolate toxicity to manifest before you seek veterinary advice. The thing is that, once these manifestations start to present, they can progress in a very rapid manner.
Your vet may ask you to induce vomiting in your cat. This is to help remove the toxic substances from its digestive tract before they are absorbed into the system. If you are not confident about inducing vomiting in your cat, then you need to bring your pet to the emergency vet facility.
What Your Vet Can Do for Your Cat
At the clinic, your vet may induce vomiting in your cat. If it is no longer beneficial to induce vomiting, your vet may administer an activated charcoal. This will help absorb the toxins and other harmful substances that remain in your pet's digestive tract. This will not absorb the theobromine that is already in the cat's bloodstream, however.
Your vet will insert an intravenous line to increase overall blood volume. This will help dilute the theobromine in the blood. It also helps facilitate its removal through the kidneys. In some instances, the therapy may include additional medications to help draw the theobromine from the blood and force it out in the urine.
Recovering from chocolate poisoning may take several days. This is also dependent on how fast you are able to notice your cat's ingestion of chocolates. How quick you're able to seek veterinary help can also determine whether your cat makes it through the ordeal.
Sources:
Harmful Foods Your Cat Should Never Eat – Pets Web MD
Can Cats Eat Chocolate? – Cuteness
Related Reads
Related Reads