PetSide may earn a small commission from affiliate links in this article.
Learn more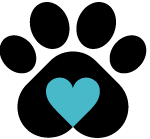 By Petside
Published 07:50 am
Snakes are an increasingly popular choice of pet; with the right knowledge, they are easy to care for and are a low maintenance reptile to have in your home. And, as long as you get their environment right in their tank, snakes will live a long and happy life.
Getting the right type of bedding – or substrate – for your new pet reptile is key to meeting their needs and also to make cleaning out their tank quick and easy. And not all substrates are suitable for every type of snake. With some species liking to burrow and others needing a more humid atmosphere, choosing the right snake substrate can seem a little confusing. But don't worry, we have your pet's best interests at heart with our guide to the best snake bedding you can buy.
The Best Snake Bedding
Best Snake Bedding Buying Guide & FAQ
What to Look For When Buying a Bedding for Snakes
Snake species – the type of snake you are buying bedding for is an essential consideration as different species will have specific environmental needs. What you are looking to do is recreate as close to their natural habitat and behavior as possible and their bedding is key. A ball python, for example, needs a dense bedding with a higher humidity whereas a corn snake likes to burrow so needs a looser, drier substrate to get down into.
Pet-safe – ensure the bedding you are selecting is free of artificial odor or any additives or oils that could be harmful to your snake. Also look for a product that has been washed to remove any parasites, wood debris, dirt or bacteria before packaging.
Absorbency – a good substrate will have proven absorbency abilities as well the ability to break down and retain odors and waste products.
Cleanliness - you also need a substrate that is easy to clean out. You should be able to spot-clean the tank to keep on top of your snake's hygiene, but as a bedding it should be able to last a week or two before you need to do a full muck out.
Cost - the cost of a bedding needs to be factored into your purchase, but how long the bag will last also needs to be considered as these can often be the best value for money in the long run.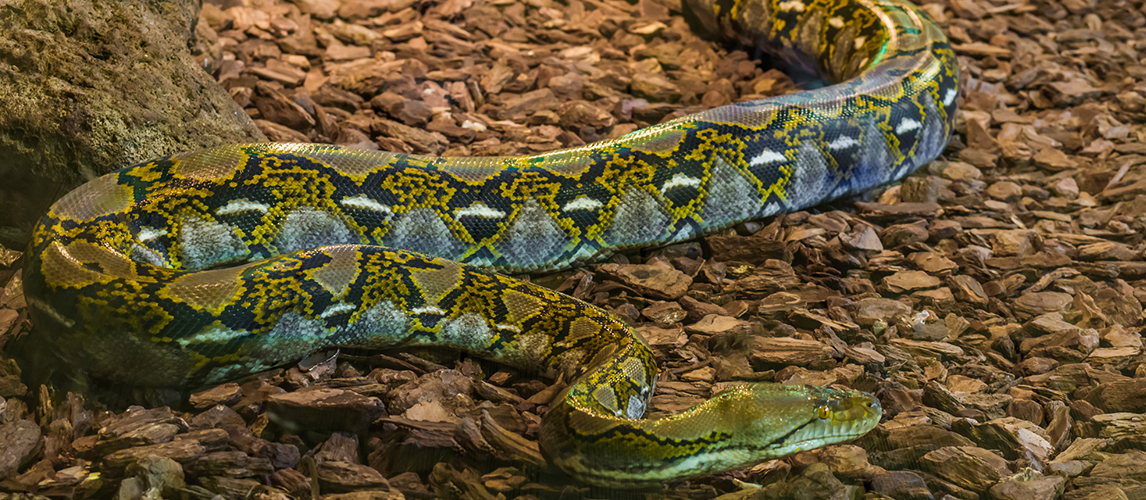 Types of Substrates for Your Pet Snake
There's a wide choice of bedding for your snake, from organic mulch to home-made solutions, including paper towels, newspaper and carpet. We give the lowdown on the most popular types of snake beddings you can use:
Cypress Mulch – this mulch creates a comfortable bedding that also lets snakes burrow deep. It looks natural and has a gentle, pleasant smell. Cypress mulch is also good choice for humidity loving snakes as it holds moisture well and helps to create the right conditions inside the tank. However, cypress mulch can harbor mites, which can lead to an infestation in your pet, so always check the packaging for information on how it has been cleaned.
Coconut fiber – another popular bedding is the fiber from coconuts which helps to break down your snake's waste and is easy to change and clean. It's also good at absorbing odors and is dust-free so won't aggravate any respiratory issues in your reptile.
Aspen Shavings – ideal for smaller snakes that don't need high humidity, aspen shavings are also good for the burrowing species. Wood-based, the shavings are lightweight and naturally control any odors in the tank, just check that they are 100% natural with no additives or colors.
Bark – fir bark is a good alternative to cypress mulch as it works in very much the same way, retaining the humidity some snake species need. It's also good for burrowing and is easy to clean, although it can be susceptible to mites so ensure you buy a quality product.
Snake Bedding to Avoid
There are some substrates to avoid as they can contain toxic chemicals or give off too strong an odor. Some types of bedding also have a texture which can be harmful to your pet. The main ones to avoid are:
Sand. While sand may look lovely, it's not recommended for any snake. Yes, they can burrow down, but the sand particles are a risk, as they can swallow them causing potential impactions in their gut. And the abrasive particles in sand can also get under their scales.
Pine and Cedar. These shavings should be avoided as they can contain oils and toxins which can be fatal for your snake.
Cat Litter. Much coarser than recommended snake bedding, cat litter is a no-go. The texture can lead to impactions if ingested and the litter is susceptible to both mold and dust, as well as artificial fragrances or treatments and so potentially harmful for your pet.
Walnut shell. On paper this looks a good snake bed – it's easy to clean and doesn't clump. But the ground-up walnut shells are an impaction risk for your snake, and as a bedding it does not hold moisture or odor very well.
Benefits of Using Reptile Bedding
The best bedding for your snake will not only keep their tank looking neat but will also create an environment that will make him feel at home. By recreating as natural environment as possible, reptile bedding will ensure their health is maintained and support their overall wellbeing. And for any snake owner, reptile bedding makes the care and maintenance of their pet so much easier, cleaner and sweeter smelling.
Our Top Pick
Well-priced and with a large volume bag, Zoo Med Aspen Snake Bedding is an excellent all-round substrate that easily scoops our review's top pick. Free from odor, toxins or wood oils which can be harmful for reptiles, Zoo Med have produced an effective aspen bedding to support most snakes, especially burrowers. The shavings are super-absorbent but light enough for snake owners to easily spot clean, creating a lovely, natural environment for your pet that will last.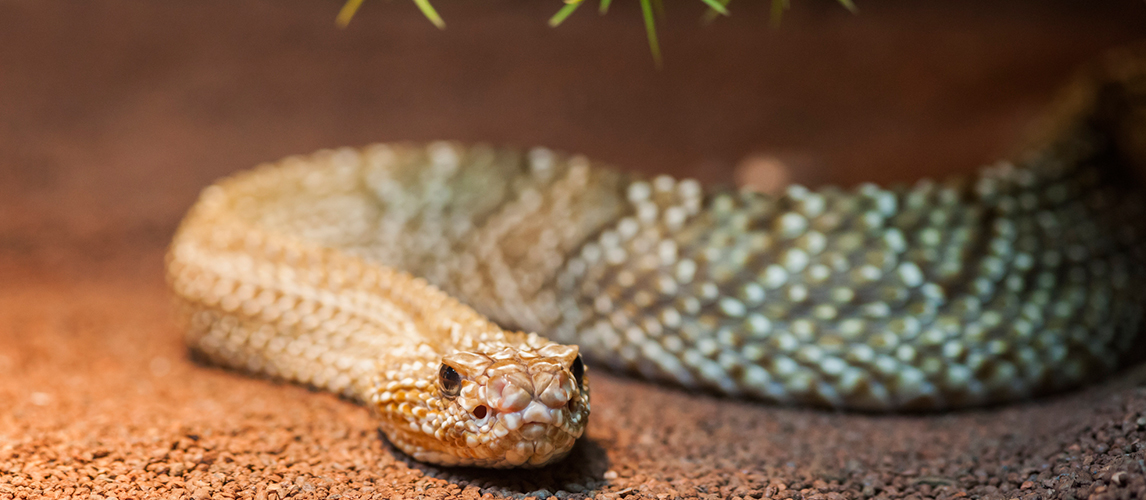 FAQ
Q:

How often should I renew my snake's bedding?

A:

The frequency of cleaning out your snake's terrarium depends on the type of substrate you're using and the type of snakes you have. For all substrates, daily spot-cleaning is essential to maintain a healthy environment for your pet. Then you need to factor in a regular full tank clean out to remove all the soiled bedding and replace with fresh. Every few weeks for a full-clean out is recommended, more frequently for heavier soiled tanks.
Q:

Are there snake bedding alternatives I can use?

A:

Several items around the home can also be used as snake substrates and can be a good back up replacement should you temporarily run out of your usual bedding. Newspaper is a cheap alternative, although it does hold moisture and isn't suitable for burrowing snakes. Paper towels are fluffier and can be shredded but they are still highly absorbent. Carpet remnants or artificial turf can be used for non-burrowing snakes and can also be washed, although they will get dirty quickly so are high up on the maintenance scale.