10 Breeds that Make the Best Hunting Dogs
When man first domesticated dogs, it was not to serve as a companion or a lap dog. The very first dogs that man had were hunters and workers. These dogs helped in the activities of their human companions. While many of the dogs today have adapted to the changing needs of man, there are still those that retain their true hunting instincts. And if you're an avid hunter yourself, you'd also want to have a trusted four-legged hunter by your side. Here are ten of dogdom's best and most prolific hunters.
1. Labrador Retriever
America's four-legged sweetheart also happens to be a venerable gun dog. You may see the Lab in almost any setting today. But it is a sporting and hunting dog at heart. Not many pet parents know that the Lab has a strong sense of smell which they use in a variety of detection and tracking activities. Seasoned hunters value the Lab for its exceptional work ethic and amiable temperament. It is also an intelligent breed that can follow its master's commands in a snap.
The Lab is both kind and pleasant and possesses an outgoing personality. Hunters love its sense of smell that allows it to track almost any scent. They are perfect for retrieving downed water fowl as these dogs have soft mouths. They can pick up their prey without mangling it to bits. Labs bred for their work ethic are fast and very athletic. These are the qualities you'd want from a hunting dog.
What endears them to hunters is their uncanny ability to work alongside human hunters without making any noise. They are excellent pointers and flushers, too. These make the Labrador Retriever an excellent partner for upland game hunting.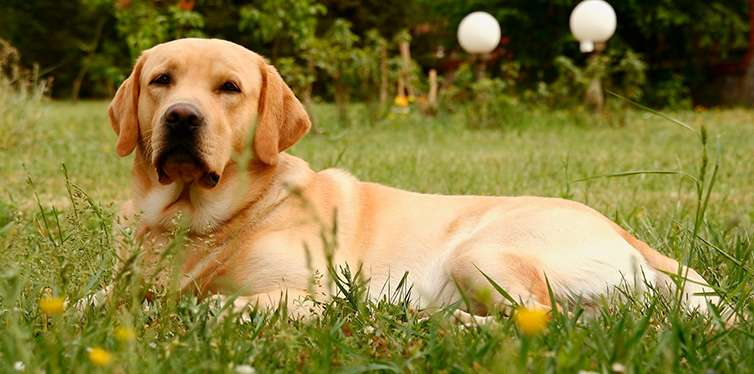 2. Golden Retriever
Like its cousin the Lab, the Golden Retriever is an excellent hunter of upland game birds and ducks. They are also known for their soft mouths, a characteristic that hunters value. This allows Goldens to retrieve downed prey without causing further damage to the animal.
A well-bred Golden Retriever is confident, friendly, and kind. You can always see it beaming with proud and gleeful eyes. It also ranks number four in the dog kingdom when it comes to intelligence. This makes Goldens very trainable and easy to work with. When you add this with their love for water, you'll have one of the best hunters for water game fowl.
Golden Retrievers not only make good hunting companions. They are also perfect family dogs. They can live alongside other pets in the household and can play all day long with kids. They have the energy of a preschooler and the curiosity of a toddler. These hounds have an exceptional sense of smell, too. When combined with their biddable nature, Golden Retrievers can make for amazing companions in the field.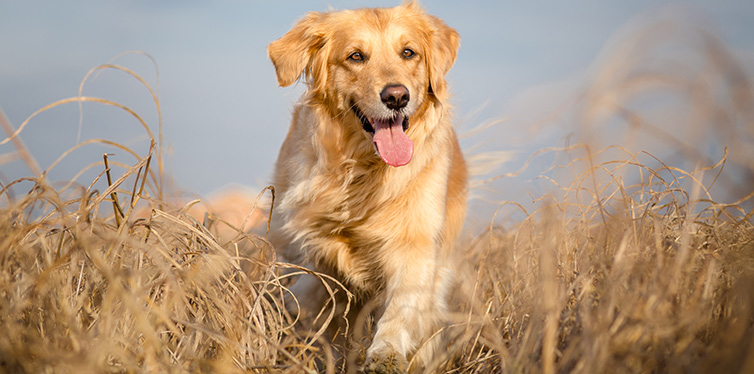 3. Beagle
If you're looking for a worthy rabbit hunter, then the Beagle should be on top of your list. Many folks don't look at the Beagle as a hunter, but it has one of the keenest sense of smell on the planet. This scenthound is like a four-legged magnet that gets attracted to the faintest scent. What is more remarkable is that once it locks into a particular scent, there's no letting go. That is why the Beagle has got to be one of the best hunting companions you can ever get.
Beagles are natural pack hunters. They are like a pack of wolves that will work in unison to chase down, tire, and corner a prey. Hunters loved using the Beagle in hunting hare and rabbits, not for the kill but for the sheer pleasure of watching the chase unfold. As a pack, they run close together. This minimizes escape routes for the prey. Beagles are also excellent when it comes to hunting pheasants.
This dog has a gentle disposition. However, its single-minded determination can be a real headache to deal with if you're a new owner. They are always happy and amiable, although they are not afraid to show their standoffish attitude towards strangers.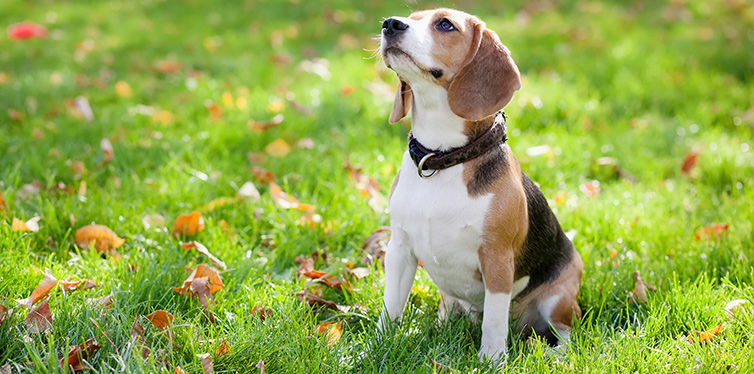 4. American Foxhound
If you were to grow the Beagle and make its legs more slender, you would call it the American Foxhound. While Beagles are perfect for hunting rabbits, the Foxhound is what hunters will use to catch the big brown fox. What is very striking about the American Foxhound is its musical bark that you can hear for miles. This is one aspect of the dog that hunters love.
When not on the hunt, the American Foxhound won't mind lazing in your porch. It is very docile and has a certain sweet demeanor to it that kids love. They're perfect for families with children. However, they may be shy and reserved in the company of people they barely know.
Foxhounds follow the dictates of their nose. They are like their smaller English counterparts when it comes to tenacity in tracking. However, because of their strong sense of smell, they are never taken off their leash when on the hunt. These are very prolific ranging hunters. They can run miles without ever stopping. Obedience training is an absolute must for this hound.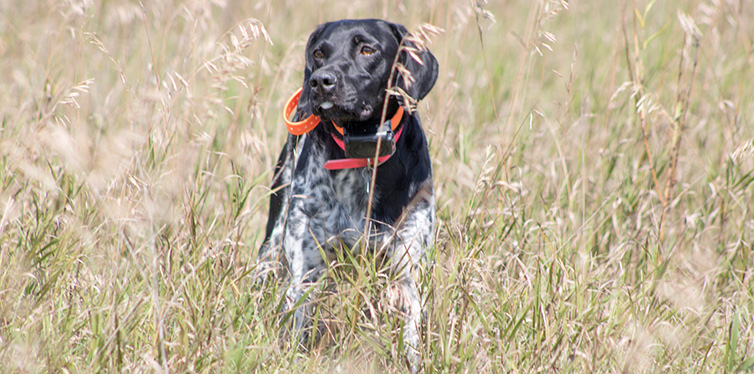 5. English Springer Spaniel
Hunters of wild birds will love the English Springer Spaniel running alongside them in their adventures. This is a gun dog that is revered for its sniffing, flushing, and retrieving capabilities. It is an upland flushing dog, staying ahead of its human hunter making a zigzag pattern to seek game birds. These dogs never move farther than the range of the gun so when it flushes the bird, the hunter is ready for the kill.
The Springer is an efficient retriever, too. It is intelligent enough to learn how to retrieve downed birds and deliver it into the hands of its human master. It will never let go of the bird unless its master tells it to. And if you think only the Lab and the Golden Retriever have soft mouths, think again. The Springer Spaniel has this characteristic, too.
One of the things hunters love about the English Springer Spaniel is that it can keep still when a bird flies from its hiding place. This is important so that it can mark the fall while also avoiding flushing other wild birds in the area. It can also remain steady as the hunter fires a shot. This way, it also knows where to retrieve the downed bird.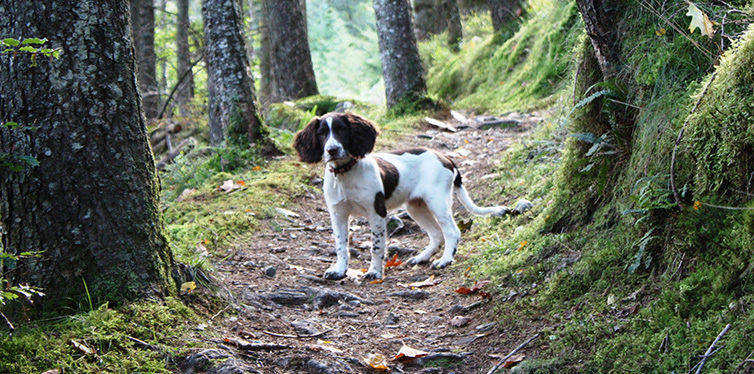 6. Pointer
This hunting dog is a cross of several breeds of dogs that are known for their individual hunting prowess. Pointers have the genes of Greyhounds, Bloodhounds, Bull Terriers, and Foxhounds in them. As such, you can always rely on the English Pointer's stunning speed, agility, and scenting abilities.
However, there's one good reason why they call it the Pointer. It strikes a pointing stance whenever it marks the presence of upland fowls. Pointers love hunting for the bobwhite quail. Pheasants, woodcocks, and grouses are also perfect targets for this breed of hunting dog.
While Pointers may lead the way in a hunt, they are never aggressive when in the home. You can have multiple pets in your household and the Pointer won't mind. In fact it can coexist with other creatures in a more harmonious manner. No one can question their loyalty. When it comes to kids, they are very affectionate, too. However, being highly-energetic dogs, the Pointer is never for the couch potato.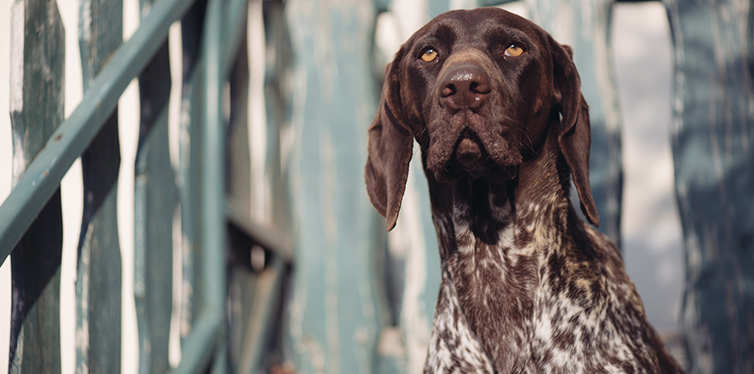 7. Chesapeake Bay Retriever
It is easy to mistake the Chesapeake Bay Retriever for the Labrador Retriever. Both have almost the same characteristics in terms of weight and height. What differentiates the Chessie from the Lab is the wavy texture and darker color of its double coat. The Chessie often comes in sedge, deadgrass, or brown color. The Lab, on the other hand, is more black, yellow, or chocolate.
This doesn't mean the Chessie is not a good hunter because it is. As a matter of fact, this is another aspect of its being that it shares with its Labrador cousin. The Chessie is a retriever dog that's bred for pulling the fishing nets from the waters of the Chesapeake Bay. It also retrieves water fowl and rescues drunk fishermen who fall into the water.
Chessies are intelligent and biddable dogs. Their love of water is also admirable, making them the perfect companion for hunters of water fowls. They have a happy and bright disposition like their Labrador cousins. This allows them to enjoy the company of kids as much as they do their hunting partners. If there's one thing that hunters love about this dog, it is the willingness to work. You can't ask anything more from a gun dog.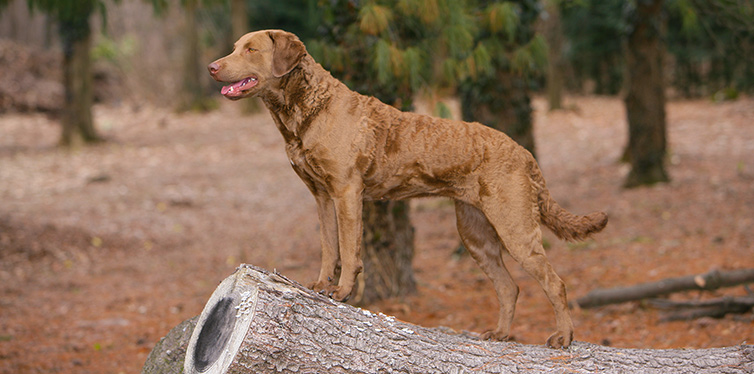 8. Coonhound
When it comes to hunting raccoons, you've got to rely on the hunting and treeing instincts of Coonhounds. You do have to understand that Coonhounds are a group of six different breeds. You can have the Black and Tan Coonhound, the Redbone Coonhound, the English Coonhound, the Bluetick Coonhound, the Treeing Walker Coonhound, and the Plott Hound. While these dogs may have diverse beginnings, they share the same purpose in the field – hunt raccoons.
In addition to hunting raccoons, Redbone Coonhounds are perfect for preying on deer, cougar, and bear. The Plott Hound, on the other hand, is more specific to the hunting of bears. However, it is also used in hunting raccoons. Coonhounds are not only ideal for raccoons. They also make great hunters for opossums and bobcats as well as other animals that climb trees to hide from predators.
Coonhounds are treeing hunters. They are very prolific when it comes to chasing their quarry, sending them up the tree. They will then stay at the base of the tree and let out a distinct baying sound by the Coonhound. Only then will hunters move in for the kill.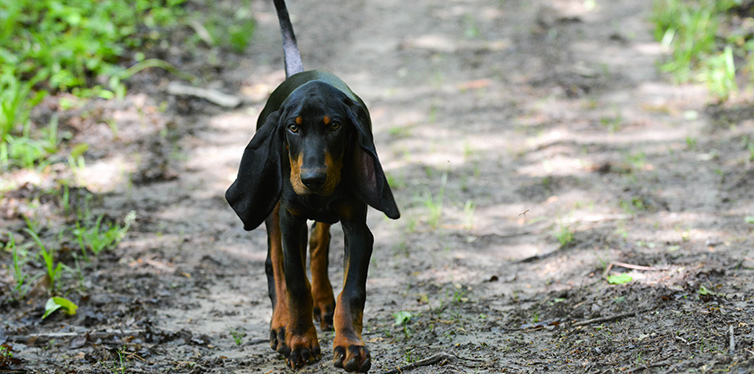 9. Bloodhound
No other breed in the dog kingdom can match the acuteness of the sense of smell of the Bloodhound. It is the king of four-legged trackers, capable of tracking scents that are already several days old. Dogs have 125 to 220 million receptors for their sense of smell. Bloodhounds have 300 million of these highly-specialized olfactory receptors.
In addition to their unparalleled scenting abilities, Bloodhounds also possess the tenacity to track any scent. They are unrelenting. They will never stop until they have found their quarry. No wonder law enforcement agencies use these dogs to track down escaped prisoners, lost pets, and missing people.
But don't let its hunting prowess fool you. The Bloodhound has an even-tempered nature. It is also happy and affectionate in the presence of its human family. When not on the hunt, the Bloodhound won't mind lying down on its couch for the rest of the day. It loves children, too. However, supervision is a must since these dogs are not your lightweight toy or small breeds.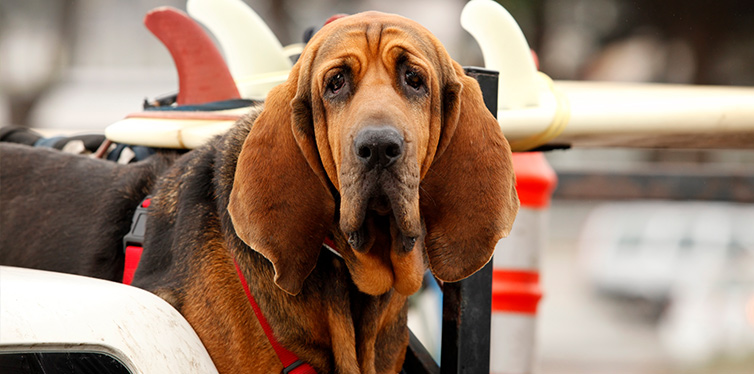 10. Weimaraner
They call it the Grey Ghost or the Silver Ghost because of its unique slivery color. The Weimaraner may not be as famous as the other dogs in this list, but it deserves to be one of the world's best hunting dogs. After all, the Weimaraner's origin is that of a royal hunting partner. Members of the German royalty in the early 19th century used Weimaraners in hunting boars, deer, and bears. With the decline of large game hunting, Weimaraners focused more on rabbits, foxes, and fowls.
Weimaraners possess high levels of energy that is perfect for running after prey in the wild. These are the quintessential all-around hunting dogs that can serve as a tracker, pointer, and retriever. When it comes to its role as a retriever, the Weimaraner can do so both in the water and on land.
This dog is perfect for novice hunters as its desire to work is very strong. It is also people-oriented, making them excellent family companions. If you want your Weimaraner to become a good hunter, you may want to pair it with a veteran hunting dog.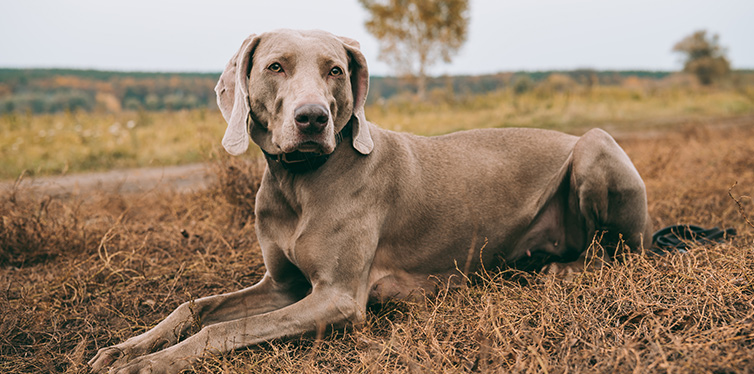 The next time you go hunting, make sure to bring any of these 10 dog breeds. They are the best companions you can ever find.
Sources:
The 10 Best Hunting Dog Breeds – Wide Open Spaces
Top 5 Hunting Dog Breeds – PetMD
Related Reads
Related Reads