The Best Dog Food for Chihuahuas (Review) in 2020
We all want the best for our pets – and that includes buying the right food. If you have a small breed, such as a chihuahua, it can be a little difficult trying to choose the right chihuahua dog food for their needs. After all, a smaller animal will have very different needs to larger breeds.
Below, we take a look at the best chihuahua food on the market. Not only that, but we give you all the information you could possibly need, so you make the right choice in dog food for your chihuahua – including the answers to your most frequently asked questions. Read on to learn everything you need to know about small breed dog food for your chihuahua.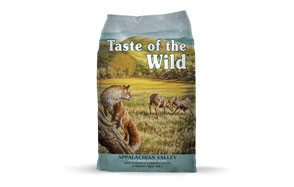 Taste of The Wild Grain Free Dog Food for Chihuahuas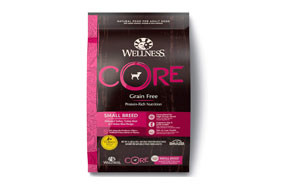 Wellness Core Natural Dog Food for Chihuahuas
Nature's Recipe Grain Free Small Breed Dry Dog Food
The Best Dog Food for Chihuahua
1.

Taste of The Wild Grain Free Dog Food for Chihuahuas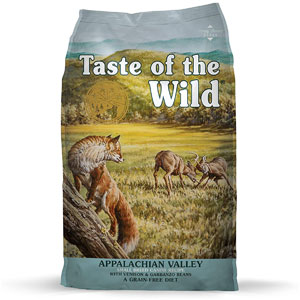 It's no secret that we're big fans of Taste of the Wild and we've found that this dog food for chihuahuas is another fantastic offering from the brand. Hitting our Top Spot as the best dog foods for chihuahuas, this small breed dog food has been designed to keep your toy breeds in top shape.
Using a healthy amount of protein, which is sourced from real venison, as well as being packed with antioxidants, vitamins and minerals, this is a chihuahua food that will keep your dog in the best shape of their life. Just be mindful that fakes are shipped out from time to time, so only buy from the brand itself, online.
Real venison provides optimal amino acids as the number one ingredient
Packed with antioxidants, vitamins and minerals
Made in the USA
Recently suffered from a bad batch
2.

Wellness Core Natural Dog Food for Chihuahuas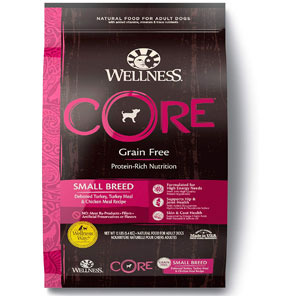 Free of grains and designed for high-energy dogs, such as chihuahuas, Wellness Core have done a fantastic job of creating a quality dog food for small breeds. The small kibble size is ideal for toy breeds while the added nutrients help maintain a healthy body.
A high level of protein means that this option is only really suitable for those dogs who use a lot of energy during the day. So, if you find yourself out at work all day or live in an apartment, you may notice your chihuahua becoming a little bit too energetic, when using this food.
Completely grain free and therefore ideal for sensitive stomachs
Smaller kibble size is perfect for smaller mouths
Packed with antioxidants, vitamins and minerals
A few customers mentioned that their small dogs did not like the taste
3.

Fromm Gold Adult Dog Food Small Breed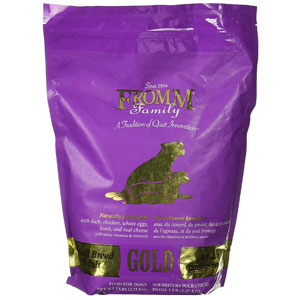 A highly rated option that customers love, this small breed Gold dog food for adult chihuahuas from popular brand Fromm is one of the best quality options that money can buy. Unfortunately, it is more expensive than our other choices, especially when considering the smaller bag.
The added taurine and alfalfa root do a great job of keeping the high-risk areas of chihuahuas extra safe, by helping to maintain a healthy heart and bones. Meanwhile, the chicory root helps to reduce the risk of worms in your dog, making this product a little unique in its offering.
Added chicory root helps to reduce the risk of worms
Added taurine and alfalfa to help maintain healthy bones, heart and eyes
Made in the USA
One of the more expensive options
4.

Canidae Pure Small Breed Real Chicken Dry Dog Food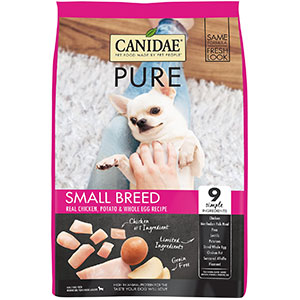 With no added nasties in its recipe, the Canidae Pure is an ideal choice in dog food for chihuahuas. It plays host to a healthy level of protein, and has added probiotics to help promote a healthy digestion. It also comes with added antioxidants and has been proven to be very popular with buyers, who say that their dogs love this dog food.
Limited ingredients mean no nasty by-products or allergens
Added probiotics and antioxidants to promote healthy digestion
Very popular with buyers
Bag can be very dusty
Kibble breaks down considerably in transit
5.

Blue Buffalo Life Protection Formula for Chihuahuas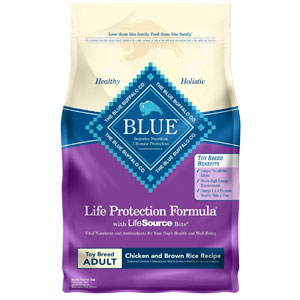 Blue Buffalo are known for producing excellent quality food with added "Lifesource Bits". These pieces of kibble can be a little tough for smaller dogs, but they are worth a little extra effort as they are packed with healthy nutrients that keep your dog at their best.
Meat is the primary ingredient here, with the kibble itself made up of grain, soy and wheat-free ingredients – making it ideal for dogs with a sensitive stomach.
Added "Lifesource Bits" are packed with healthy vitamins, mineral and antioxidants
Uses real meat as primary ingredient
No corn, wheat or soy
Kibble can be too small for some dogs
Very small bag can cost more over time
6.

Hill's Science Diet Dry Dog Food for Chihuahuas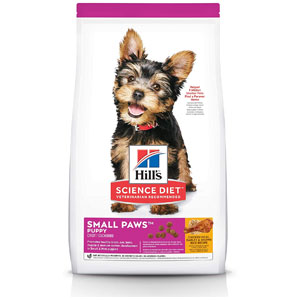 Another slightly expensive option but perfect for the growing chihuahua, this option from Hill's Science Diet is the best food for chihuahua puppy. It uses smaller kibble sizes to help meet their needs, while also being packed with plenty of vitamins and minerals to promote healthy growth in your pup.
It has been known to use more fillers than others on the market, however it has been formulated to meet the needs of young dogs. Thus, the fillers can be forgiven a touch, here, given the quality of the ingredients overall.
Designed specifically for puppies
Added antioxidants and minerals
An expensive option
Uses more fillers than other options on the market
7.

Royal Canin Breed Health Nutrition Chihuahua Dog Food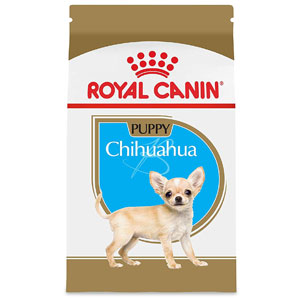 Created specifically for chihuahua puppies, this dog food is perfect for meeting the exact needs of the growing chihuahua. The protein is at an ideal range for your chihuahua puppy, while the added vitamins and minerals do a great job of promoting healthy growth.
The kibble size is small enough to be eaten comfortably, while the exact fiber and protein content helps to lower the odors produced by stools. While this isn't an essential part of their diet, it's certainly a nice benefit.
Created Specifically for Chihuahuas
Ideal kibble size for Chihuahua food
Reduced stool odors
Made in China
Comparatively expensive per serving size
8.

Nature's Recipe Grain Free Small Breed Dry Dog Food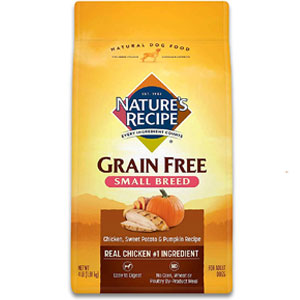 We love the way Nature's Recipe cram in so many all-natural ingredients into their food as is possible – all of which are designed to keep your chihuahua at their healthiest. This option hosts a grain-free recipe (ideal for those with allergies or sensitivities) while also remaining an affordable option for long-term use.
Be aware that some dogs simply may not like this chihuahua food, so it's worth purchasing a little wet food alongside this option, to keep their interest over a longer period of time.
Very affordable
Grain-free recipe
Some customers have complained of allergic reactions
Wet food is recommended by some, to use alongside this kibble
9.

Blue Buffalo Wilderness Rocky Mountain Chihuahua Food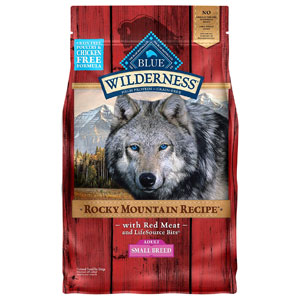 Another great option from Blue Buffalo, this grain-free formula also hosts the Lifesource Bits that have proven to be so popular with owners. This particular option is chicken-free, which is perfect for those dogs who have developed allergies from chicken or it's by-products.
It has a very high protein level, so it is perfect for the more active chihuahuas who are likely to get 30 minutes or more a day with walks and entertainment, such as additional training. However, as before, the lifesource bits can be a little too hard for some pups.
Added "Lifesource Bits" are packed with healthy vitamins, mineral and antioxidants
Chicken-free formula, ideal for sensitive stomachs
Some dogs do not like the new formula
Lifesource Bits can be a little too hard for some dogs
10.

Merrick Lil' Plates Small Breed Grain Free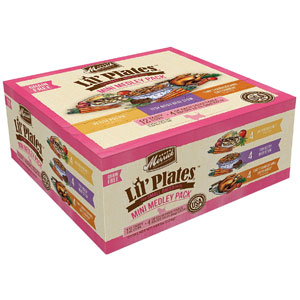 If you want to use wet food alongside your kibble, this is the best wet dog food for chihuahua breeds. While more expensive, wet food is perfect for keeping your dog's interest in food and therefore is most effective when used alongside dry food.
The majority of this food is moisture, so always remember that your dog may feel hungrier throughout the day if they aren't given enough kibble alongside this. The measurements for both should also be more precise, so as not to overfeed your chihuahua.
Grain and gluten-free variety pack offers plenty of healthy choice
Pre-portioned sizes for quicker, easier feeding times
Very expensive option when compared to kibble
Only 12 meals included
Best Dog Food for Chihuahua Buying Guide & FAQ
Ingredients to Look for When Feed Your Chihuahua
Meat and Protein
Easily one of the most important parts of the diet, good quality meat provides the main source of protein in dog food. Meat should always be the first ingredient in the list provided by manufacturers, as this will show you how protein is the main component of their kibble.
Fiber
Without fiber, you'll find that your chihuahua food can cause blockages and therefore digestive damage. Signs of this will usually include straining and constipation, vomiting and, in some severe cases, stomach problems which require surgery. Getting the right level of fiber can also help to stem diarrhea, so getting good quality ingredients is important.
Grains, Fruit and Vegetables
This is where a lot of the nutrients and vitamins will come from in your chihuahua food. All dogs need a good level of carbs in order to feed their muscles properly and produce energy. However, processed carbs can lead to lethargy and weight gain, which is why it's important to get these from natural, healthy sources such as fruit and veg.

What Food to Avoid Feeding Your Chihuahua
Fillers
Unlike healthy carbs, fillers offer no viable nutrients for your chihuahua. As they hold no nutritional value, they will often quickly make their way through your dogs' system, leaving them feeling hungry again in a matter of hours.
With an increased appetite and no benefits, you'll find that chihuahua dog food that is packed with fillers will often contribute to health and weight problems. It can also lead to an increased blood sugar, so look for food that is grain and soy-free.
Toxic Ingredients 
Dogs are known to be very sensitive to their food and there is a considerable number of ingredients which are suitable for humans, that should never be given to your dog. Chocolate, grapes, garlic, onions and xylitol are some of the main culprits in creating severe health problems in your dog, ranging from liver and kidney failure to low sugar levels and anemia. It is therefore important that your dog food never holds any of these ingredients.
Artificial Ingredients
While they are necessarily toxic to your chihuahua, artificial ingredients, colors and preservatives can all have a negative effect on the health and wellbeing of your pup in the long-term. As well as being difficult to digest and offering no nutritional value, they can also cause a range of gastrointestinal issues such as vomiting or diarrhea – and they are more likely to cause an allergic reaction.
Common Health Problems in Chihuahuas - How Diet Can Help Them
Legg-Perthes Disease
Caused by a lack of healthy blood flow to the ball joint of the hip, Legg-Perthes is a condition that is known to affect chihuahuas. It's usually found in smaller and younger breeds and a good diet can help to reduce the risk of this developing. This is because a healthy diet and a healthy level of exercise can maintain a good blood flow, which can ensure the hip joint receives an adequate supply of nutrients and oxygen.
Heart Disease
Popular insurance provider PetPlan have stated that chihuahuas are, unfortunately, twice as likely to require surgery on the heart than other breeds. As they are known for a range of heart problems – in particular with valve disease, in which the heart struggles to pump blood around the body - it is important to try and lower the risk level of your pup.
By opting for a diet which promotes healthy hearts, you can help to reduce the risk of heart disease in your chihuahua. It's also important to maintain a healthy weight for your chihuahua, to lessen the strain on the heart and keep your pup at their healthiest.

Best Dog Food for Chihuahua FAQ:
Q: How Often Should I Feed My Chihuahua?
A: What you should feed your chihuahua is based on a number of factors. Firstly, their weight is a key factor – especially as many dog food manufacturers will give you feeding guidelines based on their weight. However, their lifestyle is also important, as a more active dog will require more frequent meals, while a lethargic chihuahua will naturally require fewer meals.
Finally, what food you give your chihuahua is important, too. This is because lower quality ingredients and more fillers will likely leave your dog hungrier over time, as they won't be getting all the nutrients they require.
Overall, the general guidelines for feeding your dogs will likely follow a basic diet of having three meals a day (morning, noon and night), of between one and two cups per meal. Puppies, however, are better suited to free-feeding until around 3 months old, provided they weight at least two pounds or more.
Q: How Much Food Should I Feed My Chihuahua Puppy?
A: Chihuahua puppies will naturally need less food than their adult counterparts. As they are less likely to be taken on longer walks (with short walks recommended after their inoculations to help build their stamina), they will use less energy and therefore require less food.
Your chihuahua puppy will need, roughly, 50 calories per pound of weight. Under the age of three months, they should be free-fed or given meals between 4 and 6 times a day. After this, you can increase the amount of food given but offer only 3 or 4 meals per day. Between 6 months and 1 year of age, they should be on their regular feeding pattern of 2 to 3 meals per day.
What is the Best Dog Food for Chihuahuas?
This dry food for small dogs from Taste of The Wild is a grain-free and nutrient-packed selection that provides your chihuahua with all the nutrients they need. It easily comes in as the best dog food for chihuahuas thanks to its recipe and commitment to quality ingredients. It's also available at a great price and therefore means you can feed your dog on quality kibble without the concern of value for money.
Source:
Related Reads
Related Reads