The Best Dog Food for Greyhounds (Review) in 2020
One of the most elegant and graceful dogs in the world today are greyhounds. These dogs are a beautiful breed, known for their agility and speed. Besides these traits, greyhounds are naturally great family dogs and to ensure that your pup kept active for a long time, these dogs need to be exposed to a lot of exercises, which will be taking place in a safe, enclosed space. Training is essential for dogs, especially greyhounds because it helps in the development and maintenance of their joints and skin. Besides exercise, dogs need to be adequately fed to ensure they meet their daily caloric intake levels. But you might ask yourself what is the best dog food for greyhounds? Luckily, the list below features the best dog food for greyhounds, describing the ingredients within that make them worth your while.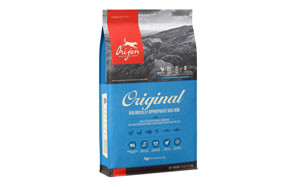 ORIJEN High-Protein Dry Dog Food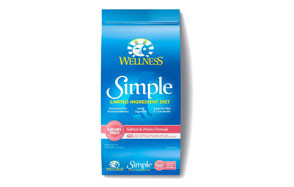 Wellness Simple Limited Ingredient Dog Food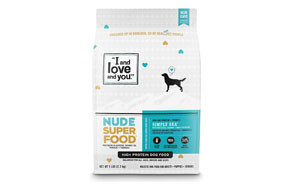 I and love and you Nude Superfood Dog Food
The Best Dog Food for Greyhounds
1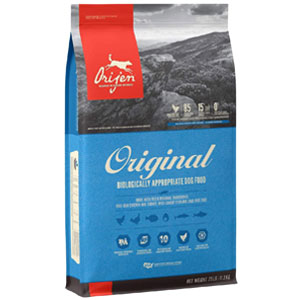 1.

ORIJEN High-Protein Dry Dog Food
The best dog foods of 2019 include the Orijen Dry Dog Food. This formula is made for all dogs but is ideal for greyhounds because of its organic nature. Orijen dog food contains high levels of protein and is free from artificial ingredients, which can cause some health problems. 
This premium large breed puppy food is made from real meat pieces that appeal to all dogs. The quality of meat used cannot be compared to that of other brands in the market today. We love that the Orijen does a fantastic job of nourishing your dog and meeting all their biological needs. This grain-free diet is nutrient-dense to cater to dogs of all ages. 
What's more, we recommend an investment in this excellent dog food formula if your dog loves varieties of meat. The Orijen dog food comes in flavors such as cage-free eggs, chicken, turkey, and herrings. It does a fantastic job of taking your canine through all the growing stages of life, and this keeps them in top shape for the longest time. 
Product Features:
High-protein
Grain-free
Premium-quality meat
Biologically appropriate
2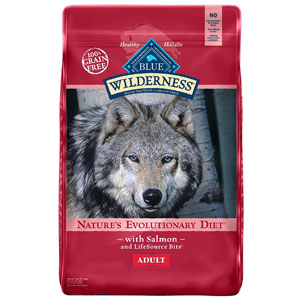 2.

Blue Buffalo Wilderness High Protein Dog Food
A single purchase of the Blue Buffalo Wilderness Dog Food is enough to ensure the holistic health of your greyhound. We have realized that foods made by Blue Buffalo are of top-quality and extremely safe for consumption. The company is made up of different professionals coming together to exchange information, which can go a long way to influence your dog's health.
The Blue Buffalo Wilderness dog food is a grain-free, high protein meal formula which is made up of purely organic ingredients that are great for all dogs, no matter how old or sensitive they may be. It features the use of quality peas and sweet potatoes, which are high fuel for all your dog's activities.
The best kibble for greyhounds is made with the company's patented LifeSource Bits, which is a precise mix of vitamins, antioxidants, and minerals that have been selected from the lot as essential elements for immune system health and all life stage requirements. This dog food comes in different protein flavors to offer dogs with enough variety. 
Product Features:
High protein
Grain-free
Natural adult food
Packed with real salmon
3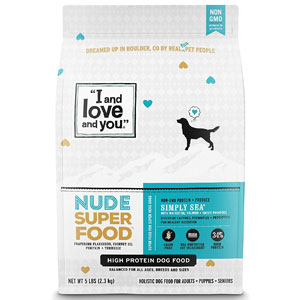 3.

I and love and you Nude Superfood Dog Food
The best way to show your greyhound how much you care is to make use of food. Our next brand has made it easy to say I love through food, via the creation of a highly organic, superfood, known to many as the I and Love and You Superfood. This is a portion of natural dog food made with organic ingredients for easy consumption.
We love this greyhound food because it is a non-GMO product that is always grain-free. It contains ingredients such as coconut oil, flaxseeds, and turmeric, which are known to be superfoods. The first ingredient in this formula is protein, as it's been formulated to aid in the natural and fluid movement of your canine.
It contains different prebiotics, digestive enzymes, and probiotics that come together to deliver radiant, healthy skin to many canines, regardless of their ages and health states. It's okay for your dog not to have your table manners, but be sure that they appreciate their meal by getting them something extra tasty like this nude superfood.
Product Features:
Grain-free kibble
Prebiotics & probiotics
Variety of flavors
Non-GMO protein
4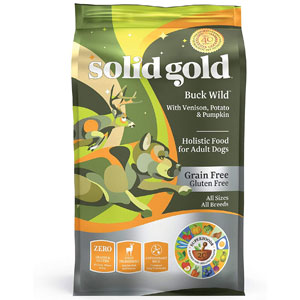 4.

Solid Gold Buck Wild Dry Dog Food
Solid Gold is a leading manufacturer of dog food around the world. Their products have been used in several homes where dogs have benefited greatly. Manufacturers are constantly going through new ingredients that are organic and very beneficial for the health of your dog. their latest dog food formula is the Solid Gold Holistic Dry Dog Food, and this is their best formula yet.
Holistic dog food is a dry dog food that comes in large quantities to cater to your dog's vast appetite. The dryness of the food enhances its durability and also makes it a more economical option for pet owners. We love the organic nature of the formula of this food, and also how the ingredients come together to aid in joint health and skin improvement.
Solid Gold dog food is grain-free and doesn't have any artificial flavors, fillers, or preservatives. It is ideal for adult dogs and those looking for extra protein to undertake all their busy movements. We can guarantee that this best dry dog food for greyhounds will fill your dog up and take it through the day without experiencing any tiredness.
Product Features:
Buck wild
Real natural venison
Grain-free
With superfoods
5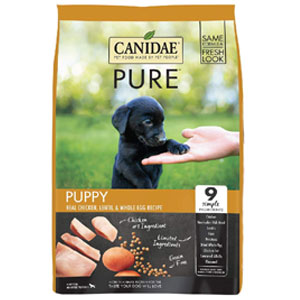 5.

CANIDAE PURE Premium Dry Dog Food
Canidae Pure Puppy Recipe. This is the best dog food for smaller greyhounds and puppies in general. We love that it is formulated with smaller dogs in mind because this ensures that they grow correctly and safely. It features all the essential growth ingredients in controlled amounts, to prevent over or underfeeding.
The best dog food for Italian greyhounds has no soy, corn, or wheat; thus, it is excellent for all dogs with sensitive stomachs. It features up to ten ingredients, which are all real foods. This dog food delivers health in every bite, thanks to the presence of probiotics, and fatty acids that help develop the coat and skin of your dog. 
There's nothing better than this dog food from Canidae. It features a simple yet effective formula that is very affordable for all dog owners and their growing puppies.
Product Features:
Limited Ingredient
Grain-Free 
Dry Dog Food
With six different proteins
6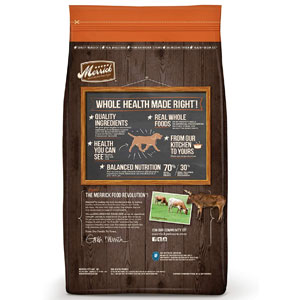 6.

Merrick Grain Free Dry Dog Food Recipe
Whether it is chicken, deboned meat or fish your dog loves, he can find a flavor from the Merrick Dry Dog Food. This organic recipe is one of the best in the industry today and has been formulated by a team of professional nutritionists and veterinarians.
Merrick dog food is the best in recent times because it offers your dog with authentic organic nutrition. It features ingredients that are high in protein for excessive energy levels, skin improvement, and an increase in muscle mass. A fantastic taste is just icing on the cake, which is this dry superfood.
We recommend the best kibble for greyhounds experiencing joint aches and pains. This formula comes with potatoes, blueberries, and apples, with an absence of soy, wheat, and corn, which can cause problems for animals with allergies. If you want to maintain a healthy weight for your dog, this is an ideal food option you can consider.
Product Features:
High-quality proteins
Grain-free dog food
Maintain your dog's hip and joint function
Nourish all types of dogs
7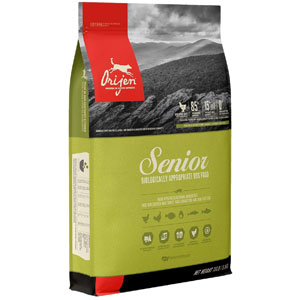 7.

ORIJEN Senior Dry Dog Food
Our editorial team always stands behind quality products; thus, the addition of the Orijen Senior Dog food to our list of recommendations is expected. We have dogs of different ages and skills in the world, from newly born puppies to senior or adult dogs. At different life stages, the nutritional demands of your dog will change. Older dogs are no different. 
Having senior dogs means you will need to feed them with more protein to help with movements and muscle maintenance. They also require more vitamins and nutrients, which improve their immune system to fight against all disorders and illnesses. Some of the flavors of this unit include turkey, free-run chicken, wild-caught flounder, and cage-free eggs.
The best food for greyhounds is a meat-rich diet that meets all the biological needs of your canine. It is oddly satisfying and pushes the limits of what's possible in a portion of dry dog food.
Product Features:
High-protein
Grain-free
Premium-quality meat
Adult dry dog food
8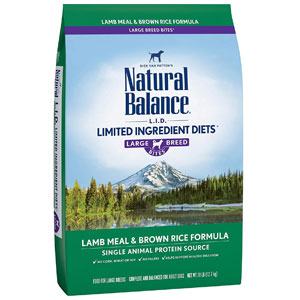 8.

Natural Balance Bites Dry Dog Food
The limited ingredients diet is a meal designed and formulated by Natural Balance. In this company, the balance of nutrients is a must to ensure that your dog benefits all the needed elements for ultimate growth. The next dog food option we're recommending is the Natural Balance Dry Dog Food.
This is a meal that comes in large quantities for more economics. It features organic products that help maintain and improve to shine of your dog's coat while enhancing their skin. Some of the ingredients included are brown rice for better digestion and lamb for muscle strength and development.
The Natural Balance large breed puppy food meets all the nutritional demands of every greyhound and also comes with a crunchy texture to keep your dog's gums healthy and his teeth clean.
Product Features:
Lamb Meal & Brown Rice
Limited Ingredient Diets
Large Breed Bites
Supports healthy skin
9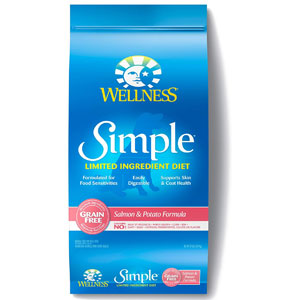 9.

Wellness Simple Limited Ingredient Dog Food
As much as possible, your dog's food must be simple and easy to consume. Having a lot of complex flavors and tastes can be a great turn off for many dogs, which is why we're recommending that you choose the Wellness Simple Dog Food. Out of all food brands in the world today, they are the favorite of most dog owners because they are an organic company.
Their greyhound food is made from the best ingredients sourced across the globe. This meal has a high protein formula, which helps in the development and maintenance of your dog's muscles, which in turn helps in all activities they may participate in. There are no gluten, soy, preservative, or fillers in this unit; thus, you're assured of first-class safety.
The Wellness Simple dog food id also very affordable and comes in large quantities for the satisfaction of your dog.
Product Features:
Natural grain-free
Limited ingredient
Salmon & potato
24-pound bag
10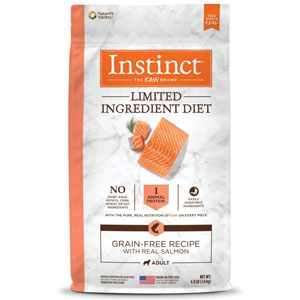 10.

Instinct Limited Ingredient Diet Dog Food
We love our final dog food formula from Instinct. It is fantastic, tasty, and highly beneficial. This is their Instinct Limited Dog Food & Toppers meal formula, which has been formed by veterinarians and scientists with the sole aim of keeping your dog active and healthy. With this dog food, you can feed dogs of all ages and those with sensitive stomachs.
This best dog food for greyhounds features fatty acids and amino acids that ensure the ultimate health of your animal's immune system. It has a superb taste that is very appealing to a wide range of dogs at all times. This dry food is the best dog food in the market if you need a purely organic meal for your canine. It can be likened to other famous brands such as Orijen, Wellness, and Nutro. This dog food is made in the U.S.A., and I come in portions sizes to limit feeding.
Product Features:
Natural ingredient diet
Grain-free recipe
Wild salmon
Best dog food for allergies
Best Dog Food for Greyhounds Buying Guide
Ingredients to Look for in Dog Food for Greyhounds
This includes chicken, turkey, duck, and many more. Having large amounts of meat in food delivers high amounts of protein to your dog. Protein is vital for the development of lean muscle and the provision of energy for all their activities.
These ingredients are included in formulas to ensure that your dog receives the much-needed fiber for comfortable and better digestion. Having plants eliminates the occurrence of bloat, leaving your dog satisfied.
For the holistic development of your dog's body, it requires proportionate amounts of minerals and vitamins. These are made available through omega and fatty acids, which go a long way to keep your dog healthy longer.
Sweet potatoes and brown rice are great examples. These are ingredients that aid in digestion, like vegetables and fruits, do. Carbohydrates are also responsible for the provision of energy for your dog's daily activities.

Greyhound Diet and Nutrition
The nutrition offered to your greyhound should be dependent on the age and size of your dog. If you have a puppy, it'll demand more nutrients that a senior dog, since it's now experiencing growth. As your dog grows, be sure to visit the veterinarian often for a change in diet, which will suit his growth stage. As the dog becomes, the amount of food eaten may reduce to help prevent weight gain.
Food to Avoid Feeding Your Greyhound
 It is best to feed a greyhound and any other dog with grain-free meals, as this will present any allergic reactions. Grains can cause some respiratory issues; thus, they should be avoided as much as possible.
These include colors, flavors, fillers, and preservatives. These plastic elements reduce the nutritional value of the food, and this will affect the overall health of your dog. Greyhounds require a lot of calories, which are filled with the necessary vitamins and minerals; Thus, a reduction will cause them to gain weight without gaining more energy.
This is ideal to keep your dog's teeth active and enhance their oral health. Having chewy bits means your dog's mouth is kept engaged fully during meal sessions.
Common Greyhound Health Problems
Greyhounds are known to experience a wide range of heart issues since they have large hearts. Most often, they're highly susceptible to murmur; thus, they require meals with healthier fats and protein. One significant way of maintaining their heart's health is to keep their weight under control even while they're old. This will prevent the fat from causing heart deterioration over time.
Bloat is an issue experienced by many dog breeds. This usually occurs in dogs who get active immediately after eating. To prevent bloat in your greyhound, we recommend that you keep your dog still for up to an hour after meals. Also, include more fiber into your dog's meals to aid with digestion.
This health issue is something that cannot be solved with food or nutrition. The food, however, can help alleviate some of the effects the disease comes with. To help create an excellent maintenance regimen for your dog with food, it is good to include quality food filled with the right portions of minerals and vitamins, which will control all thyroid issues.

Wet Food vs. Dry Food for Greyhounds
Many pet owners and owners of greyhounds specifically wonder which kind of meal is better for greyhounds; wet or dry food. The choice is mainly dependent on your greyhound and the circumstances identified. For your dog's oral and teeth health, dry dog food is the best. This is because dry food requires thorough chewing motions, and these can help prevent tartar and plaque.
Wet dog food is also advantageous in many different ways. One reason why it was formulated is to allow dogs that can't and will not eat kibble. It is a great option for all dogs with oral pain or lost teeth.
Our Top Pick
Orijen Dry Dog Food is our best choice of dog food in this article. We love this meal formula because it has been made for all dog breeds and dogs of all ages. A recap of this product takes us to its ingredients, which are all sourced from organic areas all across the world. Feeding this to a canine helps develop its lean muscles and also keeps the active dog loner, as compared to other dog food formulas.
Sources:
Greyhound - Pet MD
Related Reads
Related Reads