The Best Bark Collar (Review) in 2020
Having a dog that constantly barks, poses as a major bother, especially when you, the pet owner can't find a solution to the problem. Thanks to the innovative minds that several manufacturers had, a useful device was invented – a bark collar. These anti barking devices have several methods of operation; hence, there is a need to point buyers in the direction of the safest and most effective bark collars for use. This is why we have created a list of the best bark collars, serving as an adequate guide to point you in the direction of the most ethical approach to getting your dog to bark less.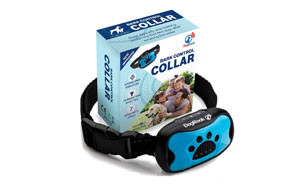 DogRook Humane Bark Collar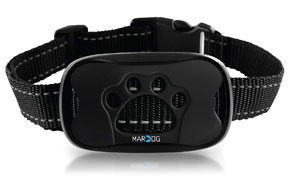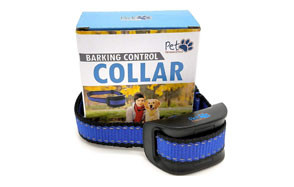 Pet Pawsabilities Humane Bark Control Collar
1.

DogRook Humane Bark Collar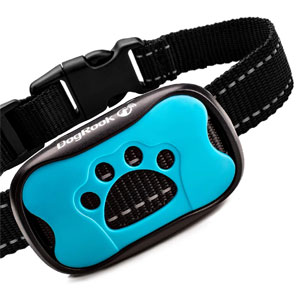 Key Features:
7 vibration levels
9-inch to 22-inch neck size
Adequate for dogs weighing 11lbs to 110lbs
Double pair of prongs and two batteries provided
Are you looking for a bark collar that has a subtle approach towards reducing your dog's barking? Then the DogRook Bark Collar is a suitable choice. There have been many speculations about how bark collars are unsafe for use; and DogRook feels the same way as well. Thus, this manufacturing company pushed through diverse technological procedures in order to create a more convenient anti barking device. This led to the invention of their no shock bark collar, which serves as a safer way to reduce the way a dog barks. It possesses a vibration feature, which vibrates and gives a suitable correction sound.
This method was adapted in order to properly help the dog learn about its barking behaviors, and with the DogRook Humane Bark Collar, your dog is bound to have a positive change of behavior in no time.  There is the availability of seven vibration levels; and these vibration levels are accompanied by beeping sounds. What's more, noth the vibrations and beeping sounds work simultaneously with the sensitivity level to be set, and coherently identifies the level of barking that the dog produces, in order to correct simultaneously. It also features an adjustable strap that provides the required comfortable feel that your dog will need when wearing the bark collars for a long period of time. The DogRook Humane Bark Collar, as the name implies, features a humane and gentle approach towards training your dog to bark less.
Can be used for any breed of dog
Doesn't have a shock feature
Has a subtle training approach
Frequent battery change required
Doesn't work for whining sounds
May not work accurately for large sized dogs
2.

Pet Pawsabilities Humane Bark Control Collar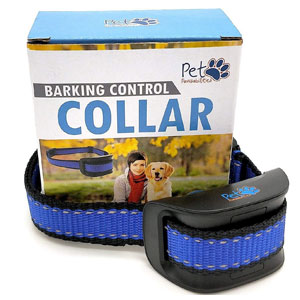 Key Features:
Suitable for dogs weighing 10lbs to 12olbs
8.34-inch to 24.5-inchneck size
7 sensitivity levels
Nylon fabric
Pet Pawsabilities is a manufacturing company with a full mission and mindset of giving back. They aren't just concerned about how well their business thrives, but more interested in the wellbeing of the pets around them; especially the ones without owners, who don't get enough privileges. As such, for every product purchased from Pet Pawsabilities, another is donated to rescue shelters situated in their locality. It's also insightful to note that they donate 5% of their earnings to a Canine Foundation that is focused on searching out a cure for canine cancer. With this much said, their bark collar also helps thousands of pet owners in bringing a safer means of bark control. The Paw Pawsibilities Humane Bark Control Collar features a no shock operation, and a high level of effectiveness. In a bid to erase the pains that emanate from shock methods, Paw Pawsibilities have insightfully implemented the sound and vibration method of operation.
This method is termed extremely painless, and is an ethical operation that dogs duly deserve. It features a microprocessor control feature, and a feature that recognizes only the barking of the dog wearing the collar, to avoid mix-ups with other noises. This ensures that your dog warrants every vibration corrective procedure from the collar. This vibrating dog collar also features seven sensitivity levels, which gives warning signals, and vibrations, to effectively train the dog to bark less. It has a feature that allows the owner to match sensitive levels with the dogs barking range and volume, to ascertain maximum effectiveness.
Has an adjustable neck size
Made with high quality mesh
Probes are entirely safe
Doesn't have water-resistant properties
Vibration tend to stop working after a while
Batteries need constant replacement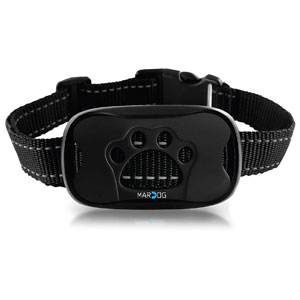 Key Features:
Has waterproof features
Made with nylon fabric
Reflective collar features
Vibration and sound warning feature
There are amazing features that accompany collars being used for dogs; more so, when an anti bark collar has such unique functionalities, it gives room for more effectiveness. A feature commonly found in a collar, is that of reflectivity. The reflective functionality is usually embedded in the fabric of the collar to enable it illuminate at nighttime, or in dark places. This was put into place to ensure that owners can conveniently locate their pets when they need to, without any stress involved. This is what the Mardog No Bark Collar has provided for its users. It features a high quality collar, with durable fabric, but with a reflective design.
Aside from the Mardog No Bark Collar having this reflective functionality, it has been made with a nylon fabric that ensures the no bark collar has the longest span of use. The strength of this collar has been built to guarantee its durability, assuring it doesn't break with time. It has a humane sound and vibration feature which ensures dogs get a painless adventure when being trained. With the sensor included in this collar, other noises are ascertained to not interrupt the procedure of learning, and deliver the most effective learning process. Also included in the Mardog No Bark Collar are intuitive accessories. These accessories include extra battery, 4 pieces of plastic probes, as well as an instruction manual to provide pet owners the needful information on operation.
A suitable bark collar for small dogs
Comfortable on dogs' necks
Able to exclude external noise factors
Vibration and sound features are not adjustable
Batteries need constant replacement
May not work effectively for larger dogs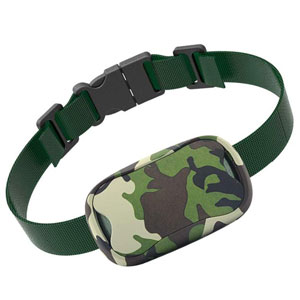 Key Features:
Suitable for dogs weighing 11lbs to 120lbs
7-inch to 21-inch neck size availability
Adjustable sensitivity operation
Nylon fabric material
It's quite essential for a dog bark collar to possess durability properties; but intuitively, manufacturers have gone the extra mile to ensure that these stop dog barking collars have extreme outstanding durable properties. A no shock collar that has these insightful durable features is the Pop View Bark Collar. This collar features all-weather resistant properties, ensuring it retains its working capabilities, no matter the condition of the weather. It can also repel moisture from the environment, and helps the bark collar retain its initial state of appearance. This bark collar has a unique nylon webbed design that contributes to its outstanding durable feature, and has an adjustable feature on it, which establishes a comfortable feel on the dog.
The Pop View Bark Collar operates by methods of vibrations and sounds. It is able to detect vocal cord movements, and emit a warning sound, and if the barking persists, the vibrations will follow. This process is assured to help the dog learn and associate the sounds and vibrations with its barking, and have a change in behavior. The sensitivity levels have an adjustable feature that helps the owner to decide what level of barking will activate the beeping sounds and vibrations. Aside from being a fully functioning bark collar, the Pop View Bark Collar features a unique design representation. These designs help to take the momentous approach that bark collars present, and ideally, turn them into a suitable stylish collar that complements the necks of dogs.
Has reflective properties
Gentle teaching mode
Comfortable wear for dogs
Not entirely waterproof
Not sensitive enough to barks
Loose strap ends could cause a bother
5.

Goodboy Small Rechargeable Dog Bark Collar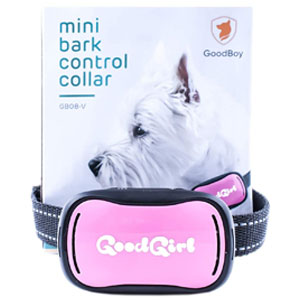 Key Features:
Suitable for dogs weighing 6 pounds and above
Adjustable strap of 5 inches to 19 inches
No prongs on the collar
Rechargeable feature
Unlike other products, a suitable anti barking device for bark control is irrefutably one that has a rechargeable feature. This takes away the stress involved in using batteries that need constant replacement. With a simple plug to a charging outlet, your bark collar is up and running. This is a unique feature that the Goodboy Small Rechargeable Dog Bark Collar provides. Another resounding feature about this device is that it is undeniably the most suitable bark collar for small dogs.  With an adjustable strap provided, the bark collar can retract to a total length of 5 inches, and is expandable to a length of 19 inches. This makes the Goodboy Small Rechargeable Dog Bark Collar the most suitable collar to fit a large amount of dog breeds.
Adding to its adjustable feature, it was created to be effective for even the smallest dogs that weigh up to 6 pounds and above. This bark collar features a stable strap that ensures the collar stays intact no matter the amount of vigorous movements the dog undertakes. What's more, this bark collar has also been technologically engineered without the implementation of prongs, in order to guarantee the most comfortable experience for any dog that would be wearing it. Its mode of operation is subtle, starting with warning sounds, and if the barking continues within the next 40 seconds, it upgrades to vibrations; if not, the process reverses to its initial stage. This ensures that all dogs get to learn adequately, associating their bark noises to the sounds and vibrations, and in turn, changing for the better.
Weatherproof collar
Great for tiny dogs
Lightweight and comfortable design
Bark detection box isn't stable on vocal cords
Adjustable feature on straps may seem inadequate
Not sensitive enough to barks
Best Bark Collar Buying Guide & FAQ
Features to Look for In a Good Bark Collar
Adjustability comes in two dimensions; first, you should consider if the straps on the collar are adjustable, and then, if the sensitivity modes of operation are adjustable. The straps should come with an adjustable feature to ensure it suits your dog's neck perfectly; and secondly, you should consider if the sensitivity modes of operation are adjustable, in order to effectively match it to your dog's barking range, and avoid unwarranted barking correction, peradventure it barks at even an incredibly low range.
When looking out for a good bark collar, the mode of operation is an excellent feature to consider. However, picking the most suitable type of bark collar depending on its mode of operation, revolves around individual preference. It is important to consider which would be safer and more effective for your dog, and should also be based on how your dog would in turn, react to it.
For the most effective learning process, the bark collar has to be comfortable on the dog's neck. It is important to consider the factors that revolve around the subject of comfort, like the weight of the collar, material used, and so on.
Some bark collars come with a replaceable battery method of powering, while others come with a rechargeable feature. Depending on the one that best suits your style of convenience, you will be able to make an adequate choice of bark collar.

Advantages of Using a Bark Collar
With the technological advancements towards building humane types of bark collars, these anti barking devices now serve as adequately safe options to training dogs properly and effectively.
Considering how effective a bark collar is at stopping incessant barking, it is identified as an undeniably fast approach towards teaching dogs to bark less, which explains why it's still on high demand in the market.
Not only are bark collars effective, they are quite affordable as well. This is yet another major advantage of anti - barking devices. The affordability feature ensures that larger amounts of people can experience the marvelous functionalities of properly training a dog in no time.
Types of Bark Collars
Shock bark collars emit shock waves to the dog when exhibiting consistent barking, in order to teach it to bark less. Though effective, popular opinions denote that this method is quite inhumane and painful to the dogs, and as such, should not be recommended for use.
Vibration bark collars are 'no shock' bark collars, which use the method of warning sounds and vibrations, in order to alert the dog of its barking habits. This has been claimed to be extremely effective, and also has an ethical approach to training dogs to bark less.
A citronella dog collar is one that releases a misty spray on the dog, to help to deter in its excessive barking habits. The citronella spray approach is used, due to the fact that it has been attested to work accurately with dogs. However, there are other substances that can be used as an alternative, to help dogs bark less when they need to.
Additional Bark Collar Tips
Proper supervision on first use
It is a highly recommended process to monitor your dog's reaction when using a bark collar for the first time, or perhaps, changing to a new product. This is duly needed to ensure the bark collar will be effective, and to ensure there isn't a negative reaction to the collar's correction procedure.
Collar must adequately fit the dog
For dog collars to be highly effective, it shouldn't be too loose, or too tight. It is expected to fit the dog just right, with a finger, or two-finger spacing in between, to allow the dog to be at the most comfortable state.
Maximum use limit must be exercised
Bark collars are not recommended for use for extremely long periods of time. Some recommend a total of 12 hours use in a day; however, this maximum time frame could be less, depending on the product being used. Hence, it is always best to refer to the instruction manual provided, to appropriately match the given bark collar to the recommended maximum time for use. It is important to also note that bark collars are only learning tools, and should not be substituted for a lifetime bark control for the dog.

Best Bark Collar FAQ:
Q: What is a bark collar?
A: A bark collar is a type of collar that was specifically created in order to train dogs to bark less. Dogs that bark more than usual, can be trained to reduce the way they bark with the proper implementation of a bark collar.
Q: How exactly do bark collars work?
A: Bark collars work in different ways; depending on the type of bark collar, by the release of either shock waves, warning sounds, vibrations, sprays, and many others, the dog is alerted of its incessant barking behavior, and with time, learns to desist from it.
Q: Are bark collars safe for dogs?
A: Bark collars are entirely safe for dogs, but this solely depends on the mode of operation of the bark collars being used. Nonetheless, bark collars serve as a safer and faster approach towards helping your dog to learn about its barking behaviors.
Q: Do bark collars work for howling or whining?
A: Most bark collars have sensors that are able to detect vocal cord movements, and as such, will be able to detect if the dog is howling or whining. This assures that indeed bark collars will work for both howling and whining.
Our Top Pick
Our selection of the best anti bark collar for use with your dogs is the DogRook Bark Collar. This bark collar effectively features a safe and subtle approach in correcting your dog's barking behavior. An outstanding feature that this bark collar possesses, is that it is able to identify your dog's barking, and exclude other sounds that can interrupt the correction and learning process. It also features a suitable adjustable strap, which is attested to be of durable quality. The straps are also entirely reflective for night time illumination. Also, included in the package are two extra batteries, two plastic probes, and an interchangeable front design patch in blue and orange.
Sources:
The 4 Different Types of Bark Collar & How They Work - Pet Street Mall
Will a Bark Collar Train My Dog to Stop Barking? - Bark Control
Related Reads
Related Reads