AmazonBasics Cat Activity Tree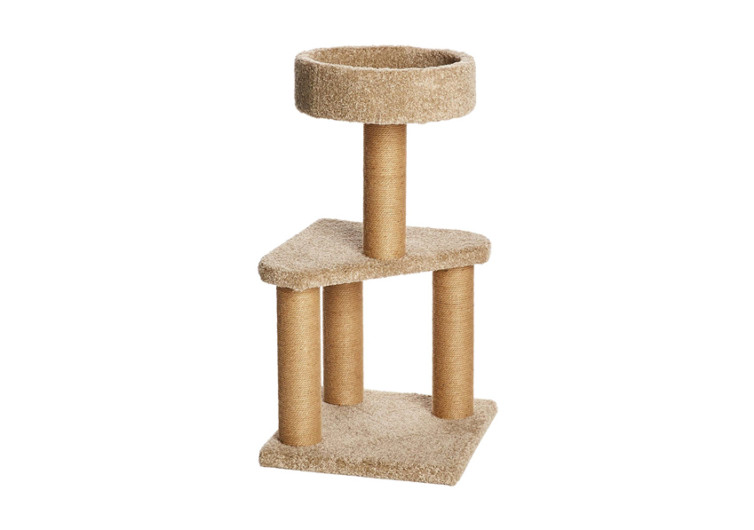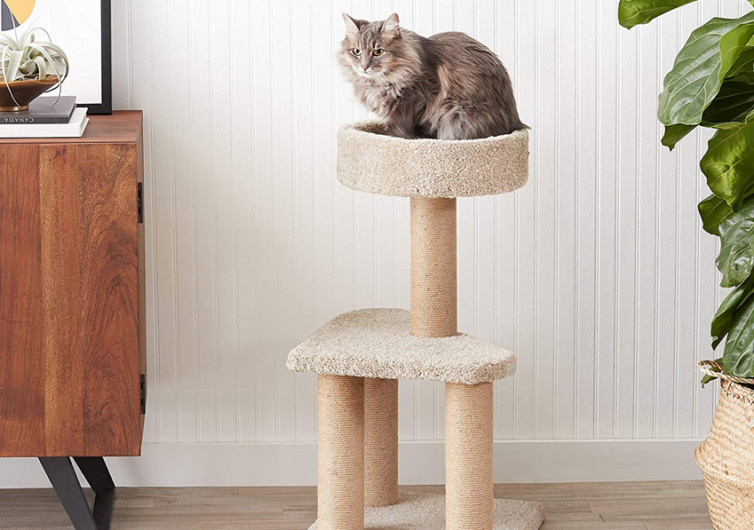 The AmazonBasics Cat Activity Tree is an affordable 3-tier playground and resting area for your cat. It comes with an easy-to-assemble design and durable construction so you can expect this product to last your kitty's lifetime. It provides a stable platform upon which cats can relax or have a more interesting time.
The 3-tier cat structure starts with a stable square base made of premium quality MDF. Unlike other cat trees, the AmazonBasics kitty tree adopted a more pragmatic approach to ensuring better stability. The square base provides such stability, especially when the cat leaps onto the topmost tier. Aside from MDF, the base also features plush carpet covering to give additional tactile experience for cats. They will love running their bodies against the surface of the base.
The second tier takes on a triangular shape with two corners rounded off for better pet safety. The outer corner of the triangle is also rounded, but is subtler than the other two corners. Nevertheless, it can still make for a neat platform for your kitty to hop onto and rest. Since there are no walls guarding the sides of the triangle platform, cats can dangle their limbs for a more relaxed afternoon.
Forming the top of the 3-tiered cat structure is a circular perch that doubles as a cat bed. Unfortunately, AmazonBasics doesn't provide you with a cushiony mattress for your kitty to use. Regardless, the perch should come in handy for kitties that love to watch the backyard. They can lay down relaxed while enjoying the view of the garden.
Connecting the three tiers are four pieces of durable paper tubes wrapped in jute fiber. Three of these tubes form the legs of the triangular 2nd tier, which connect to the base with a set of screws. A single piece of paper tube connects the 2nd tier to the 3rd tier. It may seem wobbly at first, but the screw can keep these elements together.
Pay attention to the jute fibers that wrap around the legs of the AmazonBasics Cat Activity Tree. This is not sisal rope, yet it makes for a great alternative as a scratching surface. It is "nicer" to the cat's paws, while still allowing for it to sharpen its claws.
This AmazonBasics product may not have all the bells and whistles that you'd expect from a cat tree. However, it does provide pretty decent features for your kitty to enjoy.
Related Reads
Related Reads